Palladium Cinema, Torquay Road, Paignton. 1932 – 1989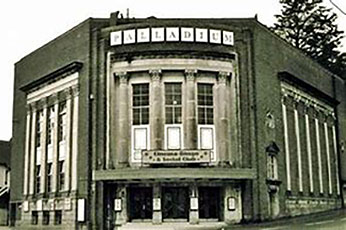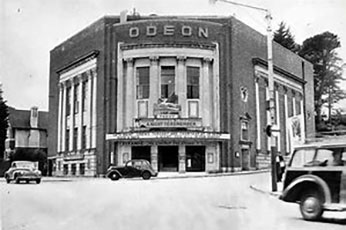 The two photographs above show the Cinema in the 1930s and then in the 1940's when it became the Odeon.
Opening its doors for the first time on Saturday 31st December 1932, it was known as The palladium from 1932 to 1943. The programme for that day was a Walt Disney Cartoon called 'Trees and Flowers', a Laurel and Hardy short called 'In Country Hospital', followed by The Palladium news and then the main feature which was the brand new, 'The Midshipman', starring Jessie Matthews, with John Mills in his first film role.
There were three performances daily, at 2.30pm, 5.45pm and 8.30pm. Stalls were 7d to 1/6d, Balcony 1/6d to 2 shillings. Children were half price for matinees.
The programme on the first day was opened by Melbourne Holman, a famous organist of that time, playing the cinema's, Christie Two-Manual, 7 ranks organ. I am trying to find out what happened to this Christie organ when the cinema was closed, anyone with information please let me know. A local organist would usually be employed to play popular music, mainly at evening performances.
The cinema had a seating capacity of 1100 and was designed and built to the latest safety regulations by architect Mr William Wolff and builder Mr R.M Ely, both of Paignton.
The Palladium Café was opened to the public from early afternoon until 10pm at night.
In 1943 the Palladium was taken over by Oscar Deutsch Empire and was renamed The Odeon.
In the 1960's it became a Rank Bingo hall, until it closed and was demolished in 1989 to make way for retirement apartments.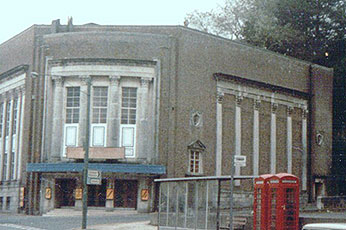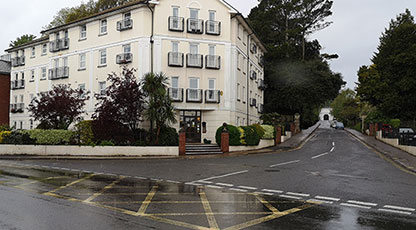 The two photographs above show the Cinema in the 1980s and on the right the same site today.
Triangle Cinedrome / Electric Palace. "The bug house"7 Totnes Road, Paignton. 1911 – 1953